Each May, the Get Caught Reading campaign celebrates the joys of recreational reading by reminding people of all ages how much fun it is to read.

Research shows that early language experience actually stimulates a child's brain to grow and that reading to children gives them a huge advantage when they start school. We encourage people of all ages to enjoy their favorite books during May and to share that pleasure with the young children in their lives.



Did you know . . .
Children who are read to from an early age are more successful at learning to read?
The American Academy of Pediatrics recommends that pediatricians prescribe daily reading activities to children from 6 months old along with other instructions given to parents?
Get Caught Reading at the Louisiana State Museum
On May 5, the Louisiana State Museum in Baton Rouge and New Orleans hosted Get Caught Reading, a statewide celebration of the joys of recreational reading. More than 400 second grade students attended the special programs. In Baton Rouge, volunteer readers included WAFB news anchor Donna Britt, Louisiana authors Dee Scallan and Claire Bateman, Country Roads editor James Fox-Smith and Edna Jordan Smith, founder of the Afro-Louisiana Historical & Genealogical Society. Daniel Meyers, a sophomore at Dutchtown High School, demonstrated book illustration techniques. Boudreaux T. Nutria, mascot for the New Orleans Zephyrs, and the Hornets' Bookmobile made special appearances at the New Orleans program. New Orleans volunteer readers included Louisiana State Museum historian Dr. Charles Chamberlain, Monica Pasos, school programs coordinator for the Audubon Institute, and Brandon Puls, Director of Community Relations for the New Orleans Zephyrs.
How Do I Get Caught Reading?
The sky's the limit. The number and variety of ways that families, schools, daycare centers and communities can participate are endless.
To name a few . . .
Print and display one of our Get Caught Reading posters. Additional posters are available at www.getcaughtreading.org.
Each day dedicate a half-hour to recreational reading and call it "Get Caught Reading Time."
Invite your students to take pictures of people in the community who were caught reading and post them on bulletin boards.
Set up a Get Caught Reading event in your community, and invite local radio and television personalities and other community figures to read aloud to children.
Set up a club where children and adults read the same book and compare their feelings on it.
Set up a Get Caught Reading corner in your classroom.
Visit a library and find a new favorite book.
Read a book with a friend and discuss your favorite characters.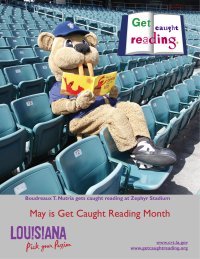 Click on the image to download poster.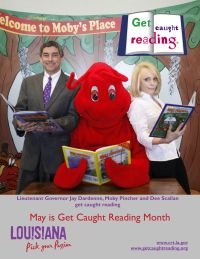 Click on the image to download poster.