Objective
The goal of the Louisiana Outdoors Outreach Program is to provide a world-class outdoor education program to underserved youth throughout the state. Programs are currently available in Baton Rouge and in New Orleans.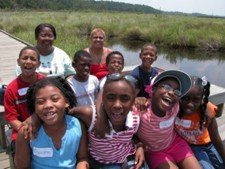 Purpose
The fundamental purpose of the Louisiana Outdoors Outreach Program (LOOP) is to provide a unique hands-on approach to educational and recreational outdoor programs, activities, and services to underserved and at-risk youth. Through a comprehensive organizational model, the goal is to enhance self-esteem, encourage mental and physical improvement, and develop the many characteristics associated with civic mindedness.
Target Population
The program targets inner city schools and community agencies that serve students who are considered at-risk or Title I equivalent. Programs and activities are geared to the following groups, including any special needs participants: (1) Elementary School - Grades 3-5, (2) Middle School - Grades 6-8, (3) High School - Grades 9-12. LOOP programming emphasizes three major areas: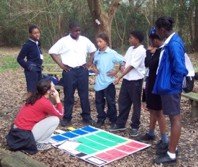 Technical Skills - water safety, canoeing, backpacking, wilderness travel, minimum impact camping.
Soft Skills - Teamwork, problem solving, conflict resolution, self-esteem, perserverance.
Academic enhancement - multidisciplinary, place-based workshops and trips.
Methodology
LOOP partners with schools and community agencies in the New Orleans and Baton Rouge areas to offer a comprehensive outdoor education program. Through an expeditionary learning program, students participate in hands-on learning and multi-disciplinary workshops. LOOP engages small groups (10-25 participants) in a series of organized, academically linked, adventure-based activities. Each curriculum piece begins with a series of in class workshops and is followed up with excursions into local outdoor environments.
---